●Home Ministry allows States to use 9,400 enemy properties
~When wars broke out between India and China in 1962, and India and Pakistan in 1965 and 1971, the central government took over properties of citizens of China and Pakistan in India under the Defence of India Acts. [The properties of enemies in India were classified as enemy property]
•The estimated value of all enemy properties is approximately Rs 1 lakh crore(about $14 billion )[Do you know Ambani worth is about $54 billion!]
●Corruption Perception Index 2019: released by Transparency International
•The index is also based on expert opinions of public sector corruption and takes note of range of factors
[ like whether governmental leaders are held to account or go unpunished for corruption, the perceived prevalence of bribery, and whether public institutions respond to citizens' needs etc. ]
•It uses a scale of zero to 100, where zero is highly corrupt and 100 is very clean
•With a score of 41, India is at the 80th spot( last year it was 78th with same score 41)
•The rank 80th is also shared by China
•Neighbouring Pakistan is ranked at the 120th place.
•Denmark and New Zealand have cornered the top spot
•This year's analysis shows corruption is more pervasive in countries where big money can flow freely into electoral campaigns
●India helps Maldives tackle measles outbreak
•Measles is a highly contagious viral disease.( It remains an important cause of death among young children globally, despite the availability of a safe and effective vaccine)
•symptoms include high fever, a runny nose, bloodshot eyes, and tiny white spots on the inside of the mouth
•India has stepped in to help the Maldives tackle a recent outbreak of measles.
[ The Indian Embassy in Male recently handed over 30,000 doses of measles and rubella (MR) vaccine to the Maldivian Health Ministry.]
●ICJ ruling on Rohingya crisis
•The International Court of Justice (ICJ) has given its verdict on the Rohingya crisis.
[The ruling of the court is binding on Myanmar, and cannot be appealed.
(However, no means are available to the court to enforce it.)
•ruling say: The government of Myanmar should immediately take "all measures within its power" to prevent atrocities against members of the minority Rohingya Muslim community.
•It was the Republic of the Gambia. It went to the ICJ in November 2019, accusing Myanmar of genocide [The Gambia was backed by the 57-member Organisation for Islamic Cooperation (OIC).]
•Myanmar was represented by Nobel Laureate Aung San Suu Kyi.
•An estimated 7.3 lakh Rohingya have fled to Bangladesh since 2017 when the Myanmar military launched a brutal crackdown on Rohingya villages in the country's coastal Rakhine state
●The Indian Regional Navigation Satellite System, (with an operational name of NAVIC)
•Is an autonomous regional satellite navigation system that provides accurate real-time positioning and timing services like GPS of US
•is an independent regional navigation satellite system designed to provide position information in the Indian region and 1500 km around the Indian mainland.
•It is a regional system and so its constellation will consist of seven satellites. Three of these will be geostationary over the Indian Ocean, i.e., they will appear to be stationary in the sky over the region, and four will be geosynchronous – appearing at the same point in the sky at the same time every day
●Ophichthus kailashchandrai:Hide — uploads.disquscdn.com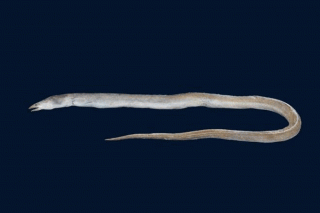 •This is a new snake eel species residing in the Bay of Bengal. It was discovered recently.
•It has been named Ophichthus kailashchandrai to honour the vast contributions of Dr. Kailash Chandra, Director of ZSI, to Indian animal taxonomy.
•It is the eighth species of the Ophichthus genus found on the Indian coast.
•It feeds on small fish and crabs. The outer surface of their bodies is slimy
But don't worry they are not poisonous!
●Web portal 'GATI'(गति): Launched by the Ministry of Road Transport & Highways.
•GATI will be daily monitored by a team of officers in NHAI and will be constantly reviewed by the senior officers of NHAI and the Ministry of Road Transport & Highways
●National Data and Analytics Platform (NDAP)
•NITI Aayog released its vision for the National Data and Analytics Platform (NDAP)
•The platform aims to democratize access to publicly available government data.
•It will host the latest datasets from various government websites, present them coherently, and provide tools for analytics and visualization.
●Subhash Chandra Bose Aapda Prabandhan Puraskar: Announced every year on 23rd January, the birth anniversary of Netaji Subhash Chandra Bose
•Awarded to recognise the excellent work done by individuals and institutions in India in the field of disaster management.
•If the awardee is an institution, it shall receive a certificate and a cash prize of ₹ 51 lakhs. [If the awardee is an individual, then ₹ 5.00 lakhs]
•Only Indian nationals and Indian institutions can apply for the award.
2
Daily Current affairs | 24 January 2020