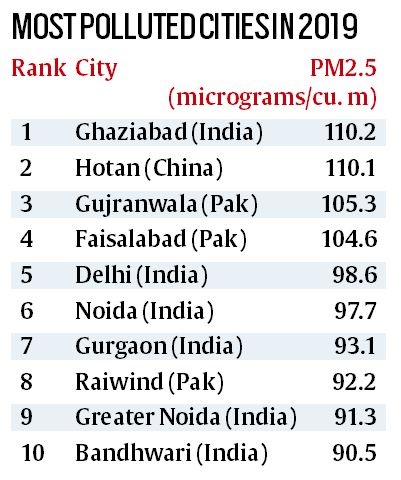 •The report was released by the pollution tracker IQAir and Greenpeace.
•The Report highlights elevated air pollution levels as a result of climate change events, such as sandstorms, wildfires and pollution gains from the rapid urbanization of cities in regions such as Southeast Asia
•Bangladesh emerged as the most polluted country for PM 2.5 exposure followed by Pakistan, Mongolia, Afghanistan and India.
•21 of the 30 most polluted cities in the world are located in India with Ghaziabad in the National Capital Region ranked the world's most polluted
Mukundra Tiger Reserve (TR),Rajasthan
•It was notified as a Tiger Reserve (2013) under the Wildlife Protection Act, 1972 and became the 3rd Tiger Reserve of Rajasthan in the form of the Mukundra Hills Tiger Reserve. [Other Tiger Reserves in Rajasthan: Ranthambore and Sariska.]
•The Mukundra TR constitutes 3 Wildlife Sanctuaries: Darrah, Jawahar Sagar and Chambhal
[National Parks (NP) in Rajasthan: Desert NP, Keoladeo Ghana NP, Ranthambore NP, Sariska NP]
Gujarat's Disturbed Areas Act,1991
•The DA Act was first introduced in Ahmedabad in 1986 to check the large scale distress sale of properties mainly by people of a particular community due to continuous riots in Ahmedabad.
[The then Gujarat Chief Minister brought in an ordinance which was later converted into the DA Act in 1991.]
•The Act is currently in force in parts of Ahmedabad, Vadodara, Surat, Bharuch, Kapadvanj, Anand and Godhra towns.
•Now, the Gujarat government has announced that it would place parts of Khambhat, a town in Anand district under the Disturbed Areas (DA) Act due to the recent communal violence outbreaks in the town.
Yakshagana: A traditional theatre form of Karnataka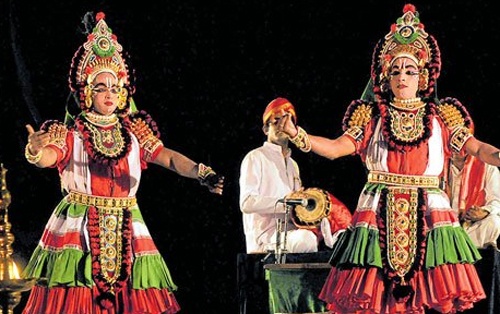 •It is a temple art form that depicts mythological stories and Puranas.
•It is performed with massive headgears, elaborate facial make-up and vibrant costumes and ornaments. [Usually recited in Kannada]
◽It is performed with percussion instruments like chenda, maddalam, jagatta or chengila (cymbals) and chakratala or elathalam (small cymbals)
Singur Dam in Medak, Telangana
•It was constructed on the Manjeera River in 1989. (Manjeera is a tributary of Godavari river.)
•It is a reservoir built for hydroelectric and irrigation purposes.
•It also serves as a source of drinking water for Hyderabad.[The deep waters of the reservoir are home to about 1000 crocodiles]
Yongle Blue Hole, located in South China Sea
•It is the world's deepest blue hole with a depth of 300 metres
•Blue holes are marine caverns filled with water and are formed following dissolution of carbonate rocks, usually under the influence of global sea level rise or fall.
[They are isolated from the ocean and don't receive fresh rainwater]
•Recently Carbon more than 8,000 years old has been found inside the Yongle Blue Hole
Chatra Vishwakarma Awards
•Organized by AICTE in association with Indian Society of Technical Education (ISTE) and Atal Innovation Mission of NITI Ayog.
•To motivate young individuals, inspire leaders and institutions/ organizations to raise their performance in their specific domains.
•It is named after the spirit of engineering and creation patronized by Lord Vishwakarma,the Hindu deity of construction practices in India
•Theme: How to enhance the income of the Village
8
Daily current affairs 26 February 2020