The Lokpal (Complaint) Rules, 2020
• Finally!, The Department of Personnel and Training has issued a notification providing the rules and prescribed format for filing complaints with the Lokpal
Quick Fact
•According to the complaint form, a complainant has to give a valid proof of identity, as specified therein
•Foreign nationals can also lodge complaints. [Only a copy of their passports will be accepted as proof of identity]
•The complaint can be filed electronically, by post or in person.
[In case the complaint is filed electronically, it's hard copy has to be submitted to the Lokpal within 15 days.]
•No complaints can be filed against a public servant under the Army Act, Navy Act, Air Force Act and the Coast Guard Act
•Lokpal is an apex body to deal with cases of corruption at the national level. It has to enquire into allegations of corruption against public functionaries including Prime Minister.
•The Lokpal consists of a Chairperson with a maximum of 8 members of which 50% shall be judicial members.
[50% of the members of the Lokpal shall come from amongst the SCs, the STs, the OBCs, minorities and women]
Sukhna lake (Chandigarh) has been declared as a living entity
•Punjab and Haryana High Court invoked its parens patriae jurisdiction to declare the lake as a legal entity for its survival, preservation and conservation having a distinct persona with corresponding rights, duties and liabilities of a living person.
•All the citizens of Union Territory, Chandigarh, are hereby declared as loco parentis (in the place of a parent) to save the lake from extinction.
•Sukhna Lake is a rain-fed lake, located within Chandigarh and its catchment area falls both in Punjab and Haryana.
Pradhan Mantri Bhartiya Janaushadhi Pariyojana (PMBJP👏!)
~is a campaign launched by the Department of Pharmaceuticals, GoI, to provide quality medicines at affordable prices to the masses through Pradhan Mantri Bhartiya Jan Aushadhi Kendra
•It Creates awareness about generic medicines through education and publicity so that quality is not synonymous with only high price.
•Janaushadhi week is being celebrated across the country from 1st March to 7th March 2020.
•On this occasion, various activities like health checkup Camp, Jan Aushadhi Paricharcha, Jan Aushadhi ka sath are being organised in the country.
【7th March 2019 to be celebrated as 'Janaushadhi Diwas' across India.】
Deen Dayal Upadhyaya Grameen Kaushalaya Yojana(DDU-GKY)
•It was launched in 2014 by the Ministry of Rural Development(MoRD) as a part of the National Rural Livelihood Mission (NRLM).
•With an aim to transform rural poor youth into an economically independent and globally relevant workforce.
[For: Rural youth in the age group of 15–35 years and upto 45 years for SC/ ST/ Women/ PVTG/PWD ]

World Wildlife Day: 3rd March
•In 2013, the UNGA decided to proclaim 3 March, the day of the adoption of the Convention on International Trade in Endangered Species of Wild Fauna and Flora (CITES) in 1973.
•Our planet is currently facing the urgent challenge that is the loss of biodiversity and up to a million species could disappear in the coming decades if unsustainable human activity, climate change and habitat degradation are left unchecked.
•Theme for 2020: "Sustaining all life on Earth"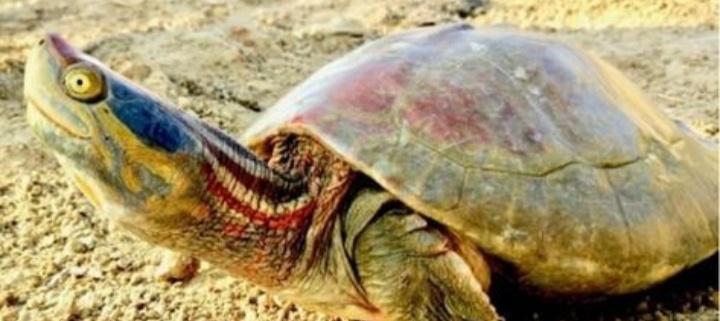 •It is one of the 24 species endemic to India, is characterised by the bright colours such as red, yellow, white and blue on the faces and necks of the males
•It is a freshwater turtle species found in deep flowing rivers with terrestrial nesting sites.
•The Red-crowned roofed turtle is native to India, Bangladesh and Nepal.
•IUCN: Critically Endangered
Bit tired! and upper se Ridley turtle speed of internet 🙄
8
Daily current affairs 4 March 2020