World University Rankings by Subject 2020: Released by 'QS University'
•The QS system now comprises the global overall and subject rankings (which name the world's top universities for the study of 48 different subjects and five composite faculty areas)
•QS ranking is viewed as one of the three most-widely read university rankings in the world
• Against 21 institutions getting ranked in 2019, the latest edition has seen 26 Indian departments entering the top-100 list for their subjects.
[ All 26 departments are in institutions run by the Union government — IITs, IIMs, IISc and Delhi University]
•IIT Bombay and IIT Delhi have secured 44th and 47th positions respectively in Engineering and Technology category
【Globally, Massachusetts Institute of Technology (MIT – USA) emerged as the world's best-performing institution】
E-waste recycling has doubled in the country in 2018-19
•The government has reported that the recycling rate of 10% in 2017-18 has risen to 20% in 2018-19👏!
•India ranks fifth among E-waste producing countries, after the US, China, Japan and Germany
•The government has implemented the E-waste (Management) Rules (2016) which enforces the Extended Producer Responsibility (EPR).
[Under EPR producers have been made responsible to collect a certain percentage of E-waste generated from their goods once they have reached their "end-of-life"]
•E-Waste (Electronic-Waste) : It is the term used to describe old, end-of-life or discarded electronic appliances. It includes computers, mobiles, consumer electronics etc.
•Non-Disposal and burning of e-waste can have serious implications on human health and can cause air, soil pollution and groundwater contamination
India Pharma & India Medical Device 2020 Conference
•Being organised by Department of Pharmaceuticals, Ministry of Chemicals and Fertilizers, in association with Federation of Indian Chambers of Commerce and Industry( FICCI)
•With an aim to encourage innovations to further reduce the cost of quality healthcare for all and a platform to the global investment community to connect with stakeholders in the Medical Device Sector in India.
•The Indian pharmaceutical market is the third largest in terms of volume and thirteenth largest in terms of value
•From 2018-19, India's pharmaceutical exports were worth USD 19.13 billion with a growth of 10.72% over USD17.28 billion in pharma exports the previous year
•The cost of manufacturing in India is approximately 33% lower than that of the US. [India is also the largest vaccine producer in the world]
•India is among the top-20 markets for medical devices in the world.
Uttarakhand Govt. named 'Gairsain' as the new summer capital of the state
•Uttarakhand (earlier known as Uttranchal renamed UK in 2006) was carved out as a separate state from Uttar Pradesh in 1998. [Those who spearheaded the movement for statehood to Uttarakhand wanted Gairsain to be made its permanent capital]
•The state Assembly is located in Dehradun but sessions are held in Gairsain as well. 【 Kya-2 ho raha hai country me aur hame pata hi ni 👀!】
•Statehood activists had long contended that Gairsain, a tehsil in Chamoli district, was best suited to be the capital of the mountainous state as it was a hilly region falling on the border of Kumaon and Garhwal regions 👍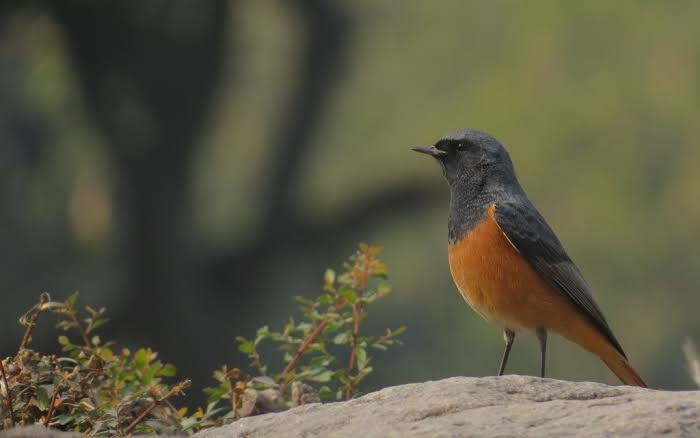 •It is a small passerine bird in the redstart genus Phoenicurus.[It is a small-sized bird (14-15 cms) and it breeds across the Himalayan Range]
•Like its relatives, it was formerly classed as a member of the thrush family, but is now known to be an Old World flycatcher.
•It occurs almost throughout Europe, Asia and in the portions of Africa and breed in the high altitude areas of Kashmir, Ladakh, Tibet and the Central Himalayan Range
•IUCN Red List : Least Concerned
"Pragyan Conclave 2020": An Indian Army International Seminar
•Organised by Centre for Land Warfare Studies (CLAWS) at New Delhi
•The seminar provided a platform for deliberations on emerging ideas, perspectives and narratives that define the 'New Age Warfare'
[which is increasingly witnessing a change in its character as well as battlespace with the usage of new 'means' to pursue the 'ends]
•The event brings together cross-domain national and international experts to deliberate on the complex subject of 'Changing Characteristics of Land Warfare and its Impact on the Military'.
Endophytic actinobacteria (predominantly free-living microorganisms)
•Researchers at the Institute of Advanced Study in Science and Technology (IASST) Guwahati, have found that the endophytic actinobacteria can replace fertilizers & fungicides in tea
•Endophytic actinobacteria have the potential to exhibit multiple growth-promoting traits that positively influence tea growth and production and can hence be used in the management and sustainability of Teacrop.
[Application of endophytic Actinobacteria could reduce chemical inputs in Tea plantation]
•India is the second largest tea producer in the world, right behind China. [major portion of the tea produced is exported from india]
Supreme Court has struck down a ban on trading of Virtual Currencies (VC) in India
•Basically, virtual currency is the larger umbrella term for all forms of non-fiat currency being traded online. [There is no globally accepted definition of what exactly is virtual currency. ]
•Virtual currencies are mostly created, distributed and accepted in local virtual networks. Virtual Currencies also includes cryptocurrencies
•Supreme Court has struck down a ban on trading of Virtual Currencies (VC) in India, which was imposed by the Reserve Bank of India (RBI) in April 2018.
[Court observed that 'Till date, the RBI has not come out with a stand that any of the entities regulated by it have suffered any loss or adverse effect directly or indirectly, on account of VC exchanges']
•The ban did not pass the "proportionality" test. The government must pass the test of Article 19(1)(g) of the Constitution, which states that all citizens of the country will have the right to practise any profession
Setu Bharatam Scheme
•It was launched in 2016 by the Ministry of Road Transport and Highways.
•It aims to make all National Highways free of railway level crossings in order to ensure safe and smooth flow of traffic and reduce road fatalities by 50%
•Government has envisaged replacement of all the level crossings on National Highways by Road Over Bridges or Road Under Bridges under the Setu Bharatam scheme by 2020.
5
Daily current affairs 5 March 2020