Indian and Chinese troops clash near Naku La in Sikkim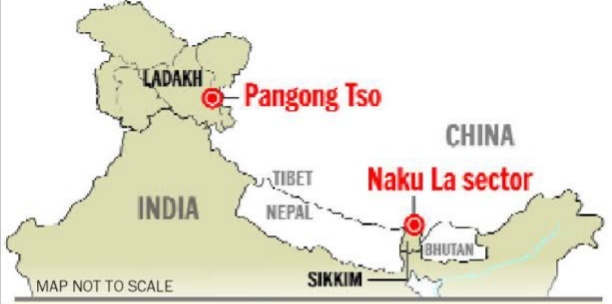 •Recently, Indian and Chinese troops engaged in a temporary and short duration face-off along the Line of Actual Control (LAC) at Naku La (Sikkim) and near Pangong Tso Lake (Eastern Ladakh)
Why?
•The temporary and brief face-offs occur because the unresolved and undemarcated boundary issues.
•The India-China border shares the 3,488-km-long Line of Actual Control.
•Both countries have differing perceptions owing to the undemarcated boundary, which lead to transgressions and face-offs as each side patrols up to the areas
[China has been engaged in aggressive diplomacy with western countries, which have sought clarity on the origins of the Covid-19 pandemic that has crippled the world economy]
Naku La
•Naku La sector is a pass at a height of more than 5,000 metres above Mean Sea Level (MSL) in the state of Sikkim.
•It is located ahead of Muguthang or Cho Lhamu (source of River Teesta).
[The other passes located in the state of Sikkim are Nathu La Pass and Jelep La Pass]

Kalapani Territory
•In the latest map, India included Kalapani into the Pithoragarh district of Uttarakhand [after revoking the special status of Kashmir on August 5]
•Nepal government says that Kalapani is an integral part of the country and that talks are still on between New Delhi and Kathmandu over this "unresolved" area.
•Nepal and India are planning to resolve the Kalapani border issue through dialogue.
Genesis of the dispute:
•Under the treaty of Sugauli signed between Nepal and the British East India Company in 1816, the Kali River was located as Nepal's western boundary with India.
•It, however, made no mention of a ridgeline and subsequent maps of the areas drawn by British surveyors showed the source of the Kali river at different places.(This discrepancy has led to the boundary disputes between India and Nepal)
•【Nepal has strongly objected to the newly inaugurated link road which connects Pithoragarh (Uttarakhand) to Lipulekh pass (China border) significantly reducing the time of Kailash Mansarovar Yatra.】
•Nepal claims the territory at the Lipulekh pass around 400 sq km area east of Kali river in the tri-junction of Nepal, Tibet and India
•【According to India's Ministry of External Affairs, the road going through Pithoragarh lies completely within the territory of India】

Mission Sagar
•India has sent Indian Naval Ship (INS) Kesari, carrying food items and medical assistance teams, to countries in the southern Indian Ocean to deal with Covid-19 pandemic as part of a "Mission Sagar" initiative
•The countries including Maldives, Mauritius, Madagascar, Comoros and Seychelles had requested India for assistance in dealing with the Covid-19 pandemic
•Mauritius, Madagascar, Comoros and Seychelles along with La Réunion are part of Indian Ocean Commission. (India has recently become an observer to the Commission)
•This is the first time that a single assistance mission is covering all island countries of the western Indian Ocean in one go — except Sri Lanka,( for which a second set of medicines have been airlifted)
Registrar General of India released data related to birth rate, death rate and infant mortality rate
Birth rate:
•India's birth rate has declined drastically over the last four decades from 36.9 in 1971 to 20.0 in 2018.
•The rural-urban differential has also narrowed. However, the birth rate has continued to be higher in rural areas compared to urban areas.
•Bihar (26.2) continues to remain at the top of list in birth rate while Andaman and Nicobar (11.2) is at the bottom.
Death rate:
•The death rate of India has witnessed a significant decline over the last four decades from 14.9 in 1971 to 6.2 in 2018.
•In the last decade, death rate at an all-India level has declined from 7.3 to 6.2.
•The decline has been steeper in rural areas.
•Chhattisgarh has the highest death rate at 8 and Delhi, an almost entirely urban state, has a lowest death rate of 3.3.
Infant mortality rate
•Infant mortality is the number of deaths of children under one year of age per 1000 live births.
•IMR has decreased to 32 about one-fourth as compared to 1971 (129).
•Madhya Pradesh has the highest IMR of 48 and Nagaland has the lowest IMR of 4

Feluda Test for Covid-19
•The Feluda is a paper strip test that detects the coronavirus in an hour.
•Feluda is an acronym for FNCAS9 Editor Linked Uniform Detection.
•It is the first such indigenous test kit to be developed in India based on Clustered Regularly Interspaced Short Palindromic Repeats (CRISPR) technology.
•CRISPR is a gene editing technology, which replicates natural defence mechanisms in bacteria to fight virus attacks, using a special protein called Cas9.
•CRISPR-Cas9 technology behaves like a cut-and-paste mechanism on DNA strands that contain genetic information
• Feluda test will cost less than Rs.500 compared to Rs. 4500 for the real-time PCR test which is currently being used for Covid-19 diagnosis in India.

154th birth anniversary of Gopal Krishna Gokhale
•Gopal Krishna Gokhale was a great social reformer and educationist who provided exemplary leadership to India's freedom movement
•Gopal Krishna Gokhale was born on 9 May 1866 in Kotluk village in present-day Maharashtra (then part of the Bombay Presidency) in a Brahmin family
•Gokhale worked towards social empowerment, expansion of education , struggle for freedom in India for three decades and rejected the use of reactionary or revolutionary ways
Role in Colonial Legislatures:
•Between 1899 and 1902, he was a member of the Bombay Legislative Council followed by work at the Imperial Legislative Council from 1902 till his death (1915).
•At the Imperial legislature, Gokhale played a key role in framing the Morley-Minto reforms of 1909.
•He was associated with the Moderate Group of Indian National Congress (joined in 1889).
•He became president of INC in 1905 in Banaras session
•He established the Servants of India Society in 1905 for the expansion of Indian education.
•He was also associated with the Sarvajanik sabha journal started by Govind Ranade.
•As a liberal nationalist, he is regarded by Mahatma Gandhi as his political guru.
•Gandhi wrote a book in Gujarati dedicated to the leader titled 'Dharmatma Gokhale

480th Birth Anniversary of Maharana Pratap
•Rana Pratap Singh also known as Maharana Pratap was born on May 9th 1540 in Kumbhalgarh, Rajasthan.
•He was the 13th King of Mewar and was the eldest son of Udai Singh II
•Maharana Udai Singh II ruled the kingdom of Mewar, with his capital at Chittor.]
Battle of Haldighati:(1576)
•The Battle of Haldighati was fought in 1576 between Rana Pratap Singh of Mewar and Raja Man Singh of Amber who was the general of the Mughal emperor Akbar.
•Rana's forces were defeated in 6 hours. But the Mughals failed to capture him. Maharana re-gathered his forces, fought and won against the Mughals after six years in 1582.
(Having faced a terrible defeat, Akbar stopped his military campaigns against Mewar after the battle.)
2
Daily Quick Revision 11 May 2020