Global Nutrition Report 2020
•The Report was conceived following the first Nutrition for Growth Initiative Summit (N4G) in 2013.
•The first report was published in 2014.
It acts as a report card on the world's nutrition—globally, regionally, and country by country—and on efforts to improve it.
Quick Fact
•It stated that India is among 88 countries that are likely to miss global nutrition targets by 2025.
[It also identified the country as one with the highest rates of domestic inequalities in malnutrition]
•India will miss targets for all four nutritional indicators for which there is data available, i.e.
1. Stunting among under-5 children,
2. Anaemia among women of reproductive age,
3. Childhood overweight and
4. Exclusive breastfeeding.
•India is identified as among the three worst countries, along with Nigeria and Indonesia, for steep within-country disparities in stunting, where the levels varied four-fold across communities.
Stunting and wasting among children
•37.9% of children under 5 years are stunted and 20.8% are wasted, compared to the Asia average of 22.7% and 9.4% respectively
Overweight and Obesity
•Rate of overweight and obesity continues to rise, affecting almost a fifth of the adults, at 21.6% of women and 17.8% of men
Jharkhand's Sohrai Khovar painting and Telangana's Telia Rumal got GI tag
1. Sohrai Khovar Paintings: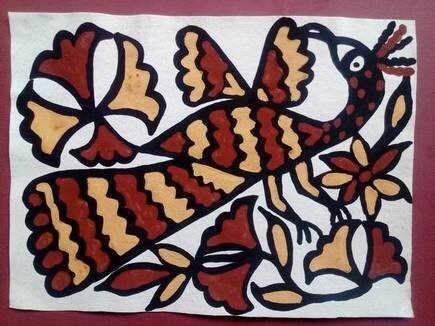 •The Sohrai Khovar painting is a traditional and ritualistic mural art
•It is being practised by local tribal women during local harvest and marriage seasons using local, naturally available soils of different colours in the area of Hazaribagh district of Jharkhand.
•Style features a profusion of lines, dots, animal figures and plants, often representing religious iconography i.e.visual image and symbols.
•It has been painted on the walls of important public places in Jharkhand, such as the Birsa Munda Airport in Ranchi.
[mural is any piece of artwork painted or applied directly on a wall, ceiling or other permanent surfaces]
2. Telia Rumal: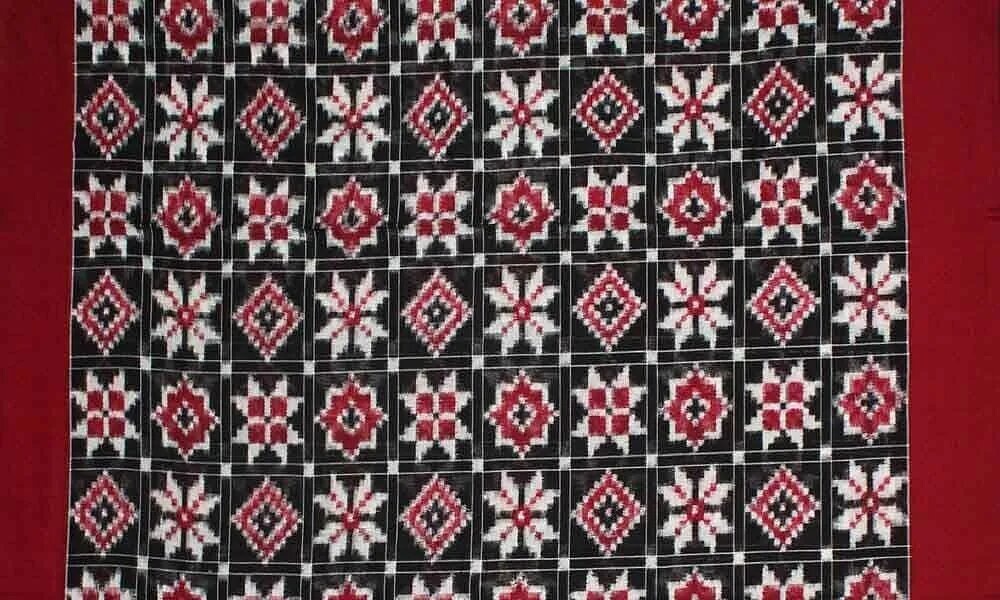 •Telia Rumal cloth involves intricate handmade work with cotton loom displaying a variety of designs and motifs in three particular lours — red, black and white.
•It is an art of Ikat tradition using natural vegetable dyes.[Ikkat is a dyeing technique used to pattern textiles]
Rebooting the Economy through Science, Technology, and Research Translations (RESTART) Conference
•The conference was organized by the Technology Development Board (TDB), an autonomous organization of the Department of Science and Technology (DST) along with the Confederation of Indian Industry (CII).
Quick Note
•Experts are of the opinion that the Covid-19 pandemic is a great opportunity for R&D and needs to be used for strengthening 'Medicines & Medical Technologies for better preparedness to face future Pandemics
•To tackle pandemics like Covid-19, research needs to quickly switch over from being capital intensive to knowledge-intensive and should be brought closer to industry.
•Covid-19 has forced the Industries to go for digital transformation.
The world is moving towards mass customization and mass specialization today, and technology like 3-D printing plays a major role in it.
•In today's pandemic scenario, virtual collaboration is the key to connect globally to fight against the common challenge of Covid-19, and collaboration between countries must continue with much vigour etc.
CHAMPIONS Portal for MSME
•CHAMPIONS stands here for : Creation and Harmonious Application of Modern Processes for Increasing the Output and National Strength
•It aims to assist Indian MSMEs march into the big league as National and Global CHAMPIONS by solving their grievances and encouraging, supporting, helping and hand holding them.
•It is a technology driven Control Room-Cum-Management Information System which utilises modern information and communication technology (ICT) tools
•It is also fully integrated on a real time basis with the Government of India's main grievances portal Centralized Public Grievances Redress and Monitoring System (CPGRAMS) and the Ministry's other web based mechanisms
Three basic objectives:
1. Support: To help the MSMEs in this difficult situation in terms of finance, raw materials, labour, permissions, etc.
2. Explore: To help them capture new opportunities like manufacturing of medical accessories and products like Personal Protection Equipments (PPEs), masks, etc.
3. Promote: To identify the sparks, i.e., the bright MSMEs who can not only withstand but can also become national and international champions.
Covid Mat by Kerala
•Recently, the Kerala State Coir Corporation announced that it will launch 'Covid Mat' (disinfecting floor mat)
•This is an attempt to prevent pathogens from entering houses, offices, shops, and institutions via feet/footwears.
•The mat will sanitise the feet to prevent the spread of Covid-19 virus
How It works?
•The concept is to put fibre mat/BC20 mat in a holding tray made of rubber or plastic. •The disinfectant will be poured over the mat until saturated.
•When a person, barefoot or wearing shoes, steps on the mat, the disinfectant will sanitise it.
•The water and disinfectant will have to be replaced every three days.
BC20 mat:: These are the Bio Combination mats i.e. made through biological/chemical substances.

Rajasthan's Krishi Kalyan fees
•Recently, the Rajasthan government has levied 2% Krishak Kalyan fees on agricultural produce brought or bought or sold in mandis.
•The 2% fees collected will be deposited in the Krishak Kalyan Kosh — dedicated to the welfare of farmers in the state.
[However, farmer outfits are apprehensive that people at agricultural mandis will pass on the burden of the increased cost to farmers, already reeling by the lockdown imposed due to the coronavirus.]
Krishak Kalyan Kosh:
•The Rajasthan government had announced the creation of the Krishak Kalyan Kosh for the purpose of ensuring fair price for farmer's produce and to strive towards "ease of doing farming" in 2019.
•As per the government, the fee will not be a burden on the people associated with the mandis nor the farmers
Need for levying fees : The government has stated that it needs a steady source of revenue for the Krishak Kalyan Kosh as the financial resources are limited and bank loans taken for the same purpose also need to be repaid by the government.
3
Daily Quick Revision 13 May 2020