Russia's far eastern Kuril Islands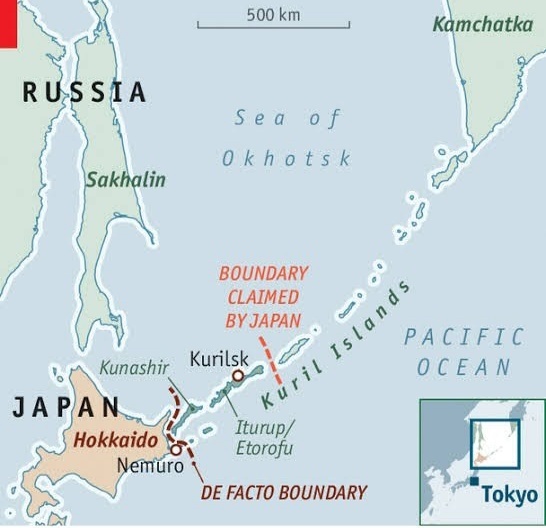 •Recently, a 7.5 magnitude earthquake struck in the northern Pacific and a tsunami warning was issued for the closest shores on Russia's far eastern Kuril Islands
•Kuril Islands are stretched from the Japanese island of Hokkaido to the southern tip of Russia's Kamchatka Peninsula separating Okhotsk Sea from the North Pacific ocean
•The South Kuril Islands comprises Etorofu island, Kunashiri island, Shikotan island and the Habomai island.
[These islands are claimed by Japan but occupied by Russia as successor state of the Soviet Union]
•Despite a series of agreements, the dispute continues and Japan still claims historical rights to the southernmost islands and has tried repeatedly to persuade the Soviet Union and, from 1991, Russia to return those islands to Japanese sovereignty
Recapitalisation plan for Regional Rural Banks (RRBs)
•RRBs are financial institutions which ensure adequate credit for agriculture and other rural sectors
•It aims to provide credit and other facilities to the small and marginal farmers, agricultural labourers, artisans and small entrepreneurs in rural areas.
•And to check the outflow of rural deposits to urban areas and reduce regional imbalances and increase rural employment generation.
•The recapitalisation process of RRBs was approved by the cabinet in 2011 based on the recommendations of a committee set up under the Chairmanship of K C Chakrabarty
【Recently, the Centre has approved a ₹1,340-crore recapitalisation plan for Regional Rural Banks (RRBs)】
Biomining or bioremediation
•It is the process of using microorganisms (microbes) to extract metals of economic interest from rock ores or mine waste.
•Biomining techniques may also be used to clean up sites that have been polluted with metals.
•Recently, the National Green Tribunal (NGT) has directed a committee to assess the amount of damage caused to the environment due to the dump sites (legacy waste) in Delhi
•Legacy wastes are the wastes that have been collected and kept for years at some barren land or a place dedicated for Landfill (an area to dump solid waste).
Biofortified durum wheat variety: MACS 4028
•Biofortification is a process to increase the bioavailability and the concentration of nutrients in crops through both conventional plant breeding and genetic engineering
•Durum is a kind of hard wheat grown in arid regions that is typically ground into semolina and used to make pasta👀!
▪️Recently, scientists from Agharkar Research Institute (ARI), Pune, have developed a biofortified durum wheat variety MACS 4028
[Wheat is a rabi crop that requires a cool growing season and a bright sunshine at the time of ripening]
National Forensic Sciences University Bill,2020
•It aims to establish a National Forensic Sciences University as an institution of national importance by upgrading the Gujarat Forensic Sciences University in Gandhinagar.
▪️It will promote studies and research in forensic science in conjunction with applied behavioural science studies, law, criminology and other allied areas for strengthening the criminal justice system in the country
3
Daily Quick Revision 26 March 2020