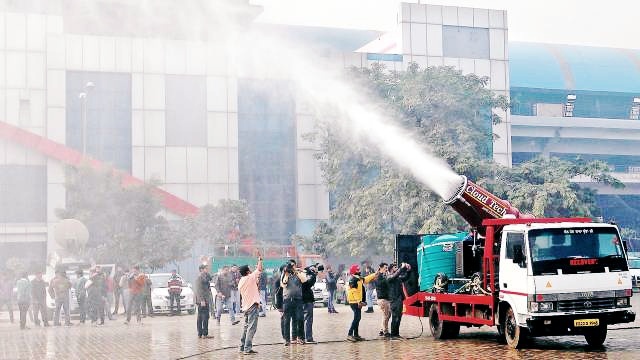 •Anti-smog gun is a device that sprays nebulised water droplets into the atmosphere to reduce air pollution.
•It can spray water up to a height of 50 metres and the results were positive as the spray acts like rain and settles dust particles and also PM 2.5.
•On January 13, the Supreme Court had said that anti-smog guns should be mandatory in projects that require environmental clearance from the State or Centre, and have a built-up area of over 20,000 square metres
•As per this, 47 large projects in Delhi had to have these guns installed, (As of now Anti-smog guns installed at 14 large project sites in Delhi)
Jammu and Kashmir's Domicile Rules
•Recently, the Ministry of Home Affairs (MHA) has issued the Jammu and Kashmir Reorganisation (Adaptation of State Laws) Order, 2020
•It amended 109 laws and repealed 29 laws of the erstwhile State and inserted the 'domicile' clause in the Jammu and Kashmir Civil Services (Decentralisation and Recruitment) Act, 2010
•The clause for 'permanent resident of the State' under the 2010 Act, has been substituted by 'Domicile' of the UT
•[Only permanent residents of J&K were eligible to apply for the gazetted and non-gazetted posts but now non-domiciles can also apply for these posts]
▪️Criteria for Domiciles
•Someone who has resided for a period of 15 years in the UT of J&K or
•Someone who has studied for a period of seven years and appeared in Class 10th/12th examination in an educational institution located in the UT of J&K etc. etc.
Electronics Manufacturing Clusters (EMC 2.0) Scheme
•Recently, the government notified three schemes involving total incentives of around Rs 48,000 crore for electronics manufacturing
•The schemes are expected to
1. Attract Rs 1 lakh crore investment in the sector.
2. Boost local electronics manufacturing and generate manufacturing revenue potential of Rs 10 lakh crore by 2025.
3. Create 20 lakh direct and indirect jobs by 2025
Wimbledon championships Postponed due to Covid-19
•Grand Slam Tournaments
•There are the four most important annual tennis events and each tournament is played for about two weeks.
1. Australian Open
•It takes place in mid-January [Played in hard courts]
2. French Open
•It is also known as the Roland-Garros de Paris.
•It takes place in May and June. [Played on clay court.]
3. Wimbledon
•It takes place in June and July. [Played on a grass court.]
4. US Open
• It takes place in August and September.
[Played in hard courts]
▪️【Wimbledon is relatively older than the rest (1877), followed by the US (1881), French (1891) and the Australian (1905)】
What is a Countercyclical Capital Buffer (CCyB) for Banking
•It intends to protect the banking sector against losses that could be caused by cyclical systemic risks increasing in the economy
•It promotes a sustainable provision of credit to the economy by making the banking system more resilient and less pro-cyclical
•The rule was first introduced in Basel III [Basel III is a voluntary set of measures agreed upon by central banks all around the world.]
【 Recently, RBI has deferred implementation of countercyclical capital buffers (CCyB) and extended the realisation period for export proceeds.】
5
Daily Quick Revision 3 April 2020