India has accepted an observer of the Indian Ocean Commission (IOC)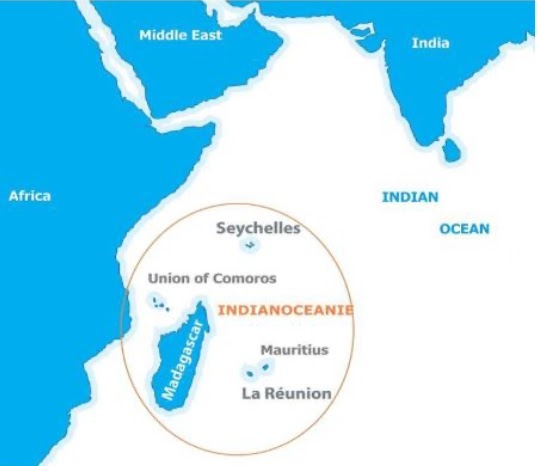 •India's joining of the IOC as an observer has strategic importance as the Commission is an important regional institution in the Western/African Indian Ocean
•As China's growing presence in the region, (India will be able to increase its naval presence and gain support for its maritime projects across the Indo-Pacific).
Indian Ocean Commission (IOC) is an intergovernmental body created in 1984 to protect the interests of the Western Indian Ocean islands.
•It consists of Madagascar, Comoros, La Réunion (French overseas territory), Mauritius and Seychelles.
•The Commission has five observers — India, China, European Union (EU), Malta and International Organisation of La Francophonie (OIF).
'Scheme for Adolescent Girls (SAG)'
•It is a centrally sponsored scheme to facilitate, educate and empower Adolescent Girls (AGs) so as to enable them to become self-reliant and aware citizens
•Implemented by Ministry of Women and Child Development through Centre and State share in the ratio of 50:50 for nutrition component and 60:40 for the rest of the activities
•It was launched in 2010
Special Gram Sabhas and Mahila Sabhas (Women's Assemblies)
•Ministry of Panchayati Raj has directed all the States and Union Territories to organise Women's Assemblies in all Gram Panchayats on 8th March, 2020 to mark the International Women's Day
•The Gram Sabhas will hold discussions on "Poshan Panchayat", land rights, education, safety, reproductive health and equal opportunity.
•It will also highlight issues like the importance of breastfeeding during the first 1,000 days of the new-borns for their ideal physical and mental growth; and raising awareness about Child Helpline – 1098
•Theme of the International Women's Day 2020 : Generation Equality: Realizing Women's Rights
CRISPR (CaS9): Gene Editing Tool
•It is a gene editing technology, which replicates natural defence mechanisms in bacteria to fight virus attacks, using a special protein called Cas9.
•The technology behaves like a cut-and-paste mechanism on DNA strands that contain genetic information.
•A person with a genetic condition that causes blindness has become the first to receive a CRISPR–Cas9 gene therapy administered directly into their body.
Competition Commission of India(CCI)
•It was established under the Competition Act, 2002
Objectives of the Commission:
•To prevent practices having adverse effect on competition.
•To promote and sustain competition in markets.
•To protect the interests of consumers.
•To ensure freedom of trade etc
Indian National Centre for Ocean Information Services (INCOIS),Hyderabad
•It is an autonomous organization under the Ministry of Earth Sciences (MoES)
•It is mandated to provide the best possible ocean information and advisory services to society, industry, government agencies and the scientific community through sustained ocean observations and constant improvement through systematic and focused research
•INCOIS, Hyderabad is celebrating International Women's Day (March 8)
National AYUSH Morbidity and Standardized Terminologies Electronic Portal (NAMASTE Portal)
•It was launched on 17th October, 2017 (2nd Ayurveda day)
•The portal provides standardized terminologies & morbidity codes for Ayurveda, Siddha and Unani systems of medicines
•AYUSH Grid
•It was initiated by the Ministry of AYUSH, aims to bring onboard all AYUSH (Ayurveda, Yoga and Naturopathy, Unani, Siddha and Homoeopathy) facilities including hospitals and laboratories and to promote traditional systems of healthcare
•Recently, the Minister of State for AYUSH has informed about the development of the AYUSH Grid and NAMASTE Portal
Katchatheevu Island in the Palk Strait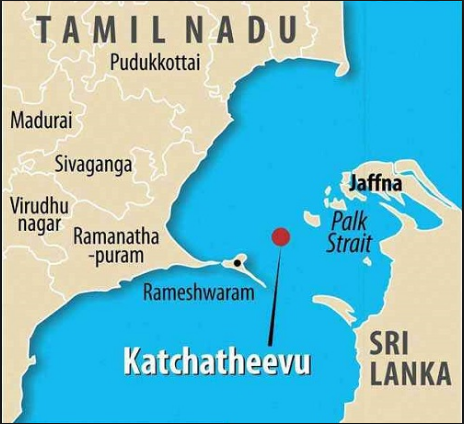 •It is an uninhabited off-shore island in the Palk Strait originally owned by a king of Ramnad (present-day Ramanathapuram, Tamil Nadu)
•During the British rule, it was administered jointly by India and Sri Lanka.
•In the early 20th century, Sri Lanka claimed territorial ownership over the islet, so in 1974 India ceded the island to Sri Lanka, through a joint agreement.
•Two years later in 1976, through another accord, India further gave up its fishing rights in the region
BHOG(Blissful Hygienic offering to God)
•It was launched in 2018 by the Food Safety and Standards Authority of India(FSSAI).
•With an aim to encourage all places of worship to adopt and maintain food safety and hygiene in preparation, serving and sale of food along with training of food handlers for basic food safety and hygiene
• Recently, Tamil Nadu Food Safety and Drug Administration Department has asked the administrations of temples to get BHOG certificates issued by FSSAI
4th Women Transforming India Awards 2019
•It is organized by the Women Entrepreneurship Platform, a flagship initiative of NITI Aayog in collaboration with the United Nations since 2016.
•With the aim to recognise women entrepreneurs who are challenging the status quo and breaking stereotypes through businesses and enterprises that are providing innovative developmental solutions to build a dynamic New India.
•Theme: Women and Entrepreneurship
•NITI Aayog's Women Entrepreneurship Platform is organising the Fourth Edition of the Women Transforming India Awards (WTI) on International Women's Day
Chapchar Kut Festival in Mizoram
•It is an annual harvest festival of the Mizo Community which marks the beginning of Spring Season.
•It is celebrated during March every year where they cut bamboo trees and are left to dry so that they can be burnt for jhum Cultivation
•Jhum(Shifting) Cultivation also called slash-and-burn agriculture is a technique of rotational farming in which land is cleared for cultivation by fire and then left to regenerate after a few years
6
Daily Quick Revision 7 March 2020