●
Why a crater on the moon is named 'Mitra'?
•On 23 August, Chandrayaan-2 captured images of various craters on the moon while passing over its north polar region
•It is named after noted Indian physicist Sisir Kumar Mitra
Sisir Kumar Mitra
•Mitra Sir led the research in ionosphere–the upper region of the atmosphere–and radiophysics.
•He was the first to introduce the teaching of radio communication in India.
•
His book, 'Upper Atmosphere' published in 1947 is still considered the Bible for research workers in the field of ionosphere.
In 1950s, he advocated space research and high altitude rocket research programmes which had been successfully conducted by US and USSR
●
Advisory Board for Banking Frauds (ABBF)
•Central Vigilance Commission (CVC) has constituted an 'Advisory Board for Banking Frauds (ABBF)'
to examine bank fraud of over ₹50 crore
and recommend action.
Composition:
•Besides the chairman, the Board consists of three other members.
•The tenure of the Chairman and members would be for a period of two years from 21st August, 2019
•It would function as the first level of examination of all large fraud cases before recommendations or references are made to the investigative agencies by the respective public sector banks (PSBs).
●
Open Acreage Licensing Programme (OALP);-
•It provides uniform licences for exploration and production of all forms of hydrocarbons, enabling contractors to explore conventional as well as unconventional oil and gas resources [Is a part of govt. Hydrocarbon Exploration & Licensing Policy (HELP) ]
•this will boost domestic production
●
G7 bloc
Hide

— uploads.disquscdn.com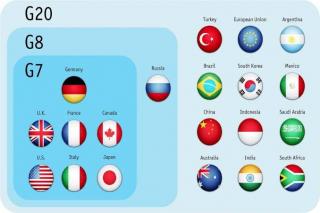 •The G7, originally G8, was set up in 1975 as an informal forum bringing together the leaders of the world's leading industrial nations.
▫️Canada, US
▫️France, Germany, Italy, United Kingdom
▫️Japan
•The 45th Annual G7 Summit is being held in the French town of Biarritz
•Many protesters claim the G7 – which has no representative from any African, Russian or Middle Eastern nation – is completely outdated.
●Talking trade with the EU
•As the economy begins to suffer from the U.S.-China trade war, it is imperative for India to pursue a free trade agreement (FTA) with the European Union (EU).
•India will struggle to keep exports competitive for Europe, its largest trade partner where 20% of its exports land up
•India is the only major power lacking an FTA with any of its top trade partners, including the EU, the U.S., China and Gulf economies
•The EU's revived focus on FTAs could only exacerbate this risk for India.
●RBI Panel on Economic Capital Framework
•RBI has approved the transfer of record Rs 1.76 lakh crore dividend and surplus reserves to the government.
•The expert panel on RBI's economic capital framework was formed to address the issue of RBI reserves—one of the sticking points between the central bank and the government.
•its(RBI) statute provides exemption from paying income-tax or any other tax, including wealth tax.
●Draft National Resource Efficiency Policy (NREP)
•It seeks to set up a National Resource Efficiency Authority (NREA) with a core working group housed in the Ministry of Environment, Forest and Climate Change and a members group with representations from different ministries, state/union territory, and other stakeholders
•Idea of the national policy is to drive the country towards circular economy through efficient use of available material resources, based on principle of 6R and 'green public procurement'.
(The 6R stands for reduce, reuse, recycle, redesign, re-manufacture and refurbish)
•According to data available, India's resource extraction of 1580 tonnes/acre is much higher than the world average of 450 tonnes/acre, while material productivity remains low.
●CITES CoP 2019: Otters given highest protection from trade
•Asian small-clawed as well as smooth-coated otters have been included in Appendix I of CITES.
•IUCN status: Both species are classified on the International Union for the Conservation of Nature, or IUCN's Red List of Threatened Species, as facing a 'high risk of extinction in the wild' and are listed as 'vulnerable'.
•Appendix I includes species threatened with extinction. Trade in specimens of these species is permitted only in exceptional circumstances.
●Mars solar conjunction
•Mars Solar conjunction for NASA's Curiosity rover and InSight lander will happen between August 28 and September 7.
•During Mars solar conjunction, Mars and Earth will be on opposite sides of the Sun.
•The Sun expels hot, ionised gas from its corona, which extends far into space.
•Solar conjunction occurs every two years.
●Community Radio Sammelan:
•The Seventh Community Radio Sammelan will be held in New Delhi.
•The Sammelan, being organized by Ministry of Information & Broadcasting, will witness participation of all operational Community Radio Stations across the country.
•The theme of this year's Sammelan is 'Community Radio for SDGs'.
0