●
Citizenship (Amendment) Bill
•It seeks to allow illegal migrants from certain minority communities in Afghanistan, Bangladesh and Pakistan eligible for Indian citizenship by amending the Citizenship Act of 1955.
•It seeks to grant citizenship to people from minority communities — Hindus, Sikhs, Buddhists, Jains, Parsis and Christians —after 6 years of stay in India even if they do not possess any proper document. (The current requirement is 12 years of stay.)
•
The Bill, however, does not extend to illegal Muslim migrants
•The Bill makes illegal migrants eligible for citizenship on the basis of religion. This may violate Article 14 of the Constitution which guarantees the right to equality
●
Framework to sustain India's 100% ODF status: (within 10 years: 2019 to 2029)
•Union Jal Shakti Ministry's Department of Drinking Water and Sanitation (DDWS) has launched a 10-year national rural sanitation strategy to sustain India's 100 per cent Open Defecation Free (ODF)
•A district-level training management unit (TMU) will be set up to provide oversight and support to gram panchayats (GPs) so that they ensure the operation and maintenance of sanitation infrastructure
•The framework also talks about state-specific strategies on menstrual hygiene management, including menstrual waste management, which may be supported under the ODF plus strategy.
●
74th session of the United Nations General Assembly (UNGA)
•Popularly known as the parliament of the world, where all the 193 UN member states are represented, the UNGA is the deliberative, policymaking and representative organ of the UN.
•Takes a decision on important matters such as peace and security, discusses various global issues and budgetary matters.
•The Assembly has no binding votes or veto powers like the UN Security Council
•Among the world's 196 countries, 193 are UN member states and three nations- Palestine, the Vatican City and Taiwan are not a part of the international organization as their country status is not recognized globally due to political and religious reasons.
●
Unitary taxation system for MNEs
•United Nations Conference on Trade and Development
(UNCTAD) in its Trade and Development Report 2019
has recommended for the adoption of a unitary taxation system for the Multi-National Enterprises (MNEs).
•The profits of MNEs are generated collectively at the group level. Hence, unitary taxation should be applied by combining it with a global minimum effective corporate tax rate on all MNE profits.
•Such an approach would simplify the global taxation system and is expected to increase tax revenues for all countries
•UNCTAD is a permanent intergovernmental body established by the United NationsGeneral Assembly in 1964.
•It is part of the UN Secretariat.
•It reports to the UN General Assembly and the Economic and Social Council, but has its own membership, leadership, and budget.
•It is also a part of the United Nations Development Group.
Reports published by UNCTAD are:
1.Trade and Development Report
2.World Investment Report
3.Technology and Innovation Report
4 Digital Economy Report
●
IMD's World Digital Competitiveness ranking 2019:
•It measures the capacity and readiness of 63 economies to adopt and explore digital technologies as a key driver for economic transformation in business, government and wider society
•
India rose from 48th place in 2018 to 44th rank this year
•US was ranked as the world's most digitally competitive economy, followed by Singapore in the second place
•China made a huge jump from the 30th position to the 22nd.
Indonesia also showed massive growth by rising to 56th rank from its 62nd rank in 2018
•China showed significant improvement in the knowledge factor.
•India also showed significant improvement by jumping up four places. In knowledge factor, India fared best in graduates in sciences and R&D productivity by publication.
[India has to still, however, work on enforcing contracts, mobile broadband subscribers, wireless broadband and internet users]
●
UN Global Climate Action Awards
•The 15 award-winning projects fall within four focus areas: Planetary Health, Climate Neutral Now, Women for Results, and Financing for Climate Friendly Investment.
•The Awards are spearheaded by the Momentum for Change initiative at UN Climate Change.
•The UN Climate Change's Momentum for Change initiative is implemented with the support of The Rockefeller Foundation
●
KAZIND-2019:
•It is a joint military exercise between India and Kazakhstan.
•The latest edition is scheduled to be held in Pithoragarh district, Uttarkhand from 3-15 October 2019.
•Focus: counter terrorism operation
●
Malabar Exercise 2019:
•23rd edition of Malabar Exercise, the trilateral maritime exercise
between navies of India, Japan and the US
recently began off the coast of Japan.
•Malabar 2019 exercise seeks to further strengthen India-Japan-US naval cooperation and enhance interoperability, based on shared values and principles.
●
Accretion Disc:
Hide

— uploads.disquscdn.com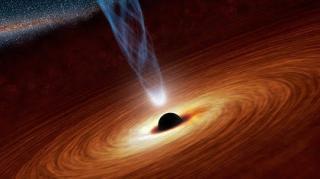 •The black hole's extreme gravity skews light emitted by different regions of the disc, producing the misshapen appearance.
• This visualization simulates the appearance of a black hole where infalling matter has collected into a thin, hot structure called an accretion disc.
●Goldschmidtite:
•It is a new mineral that has been discovered recently inside a diamond unearthed from a mine in South Africa.
•It has been found in Earth's Mantle (A part of Interior of the Earth) which covers 80% of earth's volume.
Composition: It has high concentrations of niobium, potassium and the rare earth elements
•The found single grain is dark green in colour and opaque
0
Daily Quick Revision Current Affairs || 28 September 2019