●
Type of questions(ask) in Indian Parliament
•
Starred Questions:
In starred questions a member desires an
oral answer from the Minister
in the House and is required to be distinguished by him/her with an asterisk
•
Unstarred Questions:
In unstarred questions
written answer
is desired by the member and is deemed to be laid on the Table of the House by Minister.
•
Short Notice Questions
: In this a member may give a notice of question on a matter of public importance and of urgent character for oral answer at a notice less than 10 days prescribed as the minimum period of notice for asking a question in ordinary course
•The number of starred questions was fixed at 20 per Question Hour from the fourth session of the fifth Lok Sabha in 1972
●
QS University Rankings for Asia
Hide

— uploads.disquscdn.com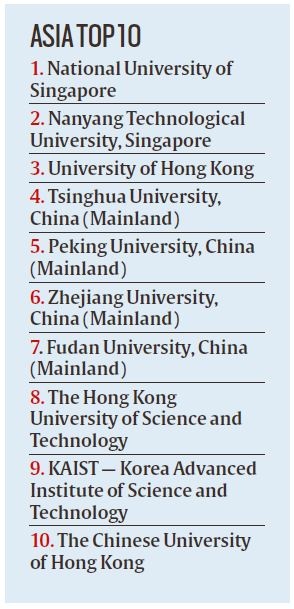 •The National University of Singapore is ranked Asia's best for the second consecutive year. It is followed by Nanyang Technological University, which has risen from 3rd to 2nd; and the University of Hong Kong.
•96 Indian institutions rank among 550 for the continent.
•India does not yet have a university among the top 30.
•The best performing institution from India is IIT Bombay, which drops one place to 34th position (35-1=34th). It is followed by IIT Delhi at 43rd place and IIT Madras at 50th. [In Asia]
•The Indian higher education system has grown exponentially over the past decade the number of universities has nearly doubled, and the number of colleges has grown by 50 per cent.
●Common but Differentiated Responsibilities and Respective Capabilities (CBDR–RC)
•It is a principle within the United Nations Framework Convention on Climate Change (UNFCCC).
•It acknowledges the different capabilities and differing responsibilities of individual countries in addressing climate change.
•Reflecting CBDR-RC, the Convention divided countries into "Annex I" (for developed countries) and "non-Annex I," (for developing countries)
•The Union Cabinet has approved India's approach for the 25th Conference of Parties (COP) scheduled to be held in Spain.
•India's approach will be guided by principles and provisions of the UNFCCC and Paris Agreement particularly the principles of Equity and CBDR-RC
●Contract for the Web
•Sir Tim Berners-Lee, inventor of the World Wide Web, has announced a "Contract for the Web" — aimed at saving the future of his invention.
•The idea is to create a global plan of action for all stakeholders to together commit to building a "better" Web. The goal is to create a standard policy for a Web that benefits all.
•The Contract consists of nine principles — three each for governments, private companies, and individuals and civil society to endorse.
•The Contract is not meant to be "simply aspirational", or just a "declaration". "It's actually meant to be implemented, and it's meant to be a plan of action.
•Governments who are looking to regulate in the digital era, can use the contract as a roadmap to lay out their policies and laws going forward
●Emission Gap Report: [released by United Nations Environment Programme (UNEP)] View — uploads.disquscdn.com
•It measures the gap between what we need to do and what we are actually doing to tackle climate change.
•Also called as the "Commitment Gap", it is the difference between the low level of emissions that the world needs to drop to, compared with the projected level of emissions based on countries' current commitments to decarbonization.
•The world will fail to meet the 1.5°C temperature goal of the Paris Agreement unless global greenhouse gas emissions fall by 7.6 per cent each year.
Global temperatures are set to rise about 3.2 degrees C by 2100
•The top four emitters (China, USA, EU and India) contributed to over 55% of the total emissions over the last decade, excluding emissions from land-use change such as deforestation.
•India is the fourth-largest emitter of Green House Gases (GHGs). [It is among a small group of countries that are on their way to achieve their self-declared climate targets under the Paris Agreement.]
●Sustainable Alternative Towards Affordable Transportation (SATAT) Initiative
•The initiative is aimed at providing a Sustainable Alternative Towards Affordable Transportation (SATAT) as a developmental effort that would benefit both vehicle-users as well as farmers and entrepreneurs.
•Compressed Bio-Gas plants are proposed to be set up mainly through independent entrepreneurs.
•Bio-gas is produced naturally through a process of anaerobic decomposition from waste / bio-mass sources like agriculture residue, cattle dung, sugarcane press mud, municipal solid waste, sewage treatment plant waste, etc
•Compressed Bio-Gas is exactly similar to the commercially available natural gas in its composition and energy potential. With calorific value (~52,000 KJ/kg) and other properties similar to CNG
●Trachischium apteii: View — uploads.disquscdn.com
•It is a newly discovered snake species from Arunachal Pradesh.
•It was found in Tally Valley Wildlife Sanctuary.
•It belongs to a group of fossorial (adapted to digging) snakes that live mostly underground, and surface mainly during or after a heavy monsoon shower
●HIM VIJAY Military Exercise:
•HIM Vijay is the Indian Army's biggest mountain combat exercise.
•It is the first-ever military drill that was held in the north-eastern state of Arunachal Pradesh.
•The exercise will include troop mobilisation, mountain assault and air assault.
0