●
Dokdo or Takeshima Islands
Hide

— uploads.disquscdn.com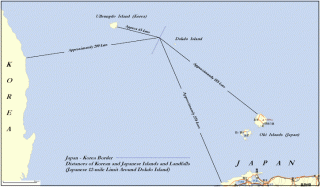 •The disputed Dokdo/Takeshima islands, are occupied by South Korea but also claimed by Japan. The islands are in the middle of the Sea of Japan, almost equidistant between Japan and Korea.
•The Dokdo Islands are the center of a diplomatic dispute between South Korea and Japan that goes back more than 300 years.( seriously 300 years!)
●International Charter on Space and Major Disasters.
•The Charter is a non-binding, worldwide collaboration, through which satellite data are made available for the benefit of disaster management.
•The charter was activated for the 2004 Indian Ocean earthquake and tsunami by the Indian Space Research Organisation (ISRO).
•With Assam inundated by floods, several countries including China, Russia and France collaborated with India on sharing satellite images of the scale of inundation
●Pradhan Mantri Shram Yogi Maan-Dhan Yojana.
•It is a voluntary and contributory pension scheme that will engage as many as 42 crore workers in the unorganised sector.[meant for old-age protection and social security of unorganised workers.]
•The unorganised sector workers, with income of less than Rs 15,000 per month and who belong to the entry age group of 18-40 years, will be eligible for the scheme.
•Those workers should not be covered under New Pension Scheme (NPS), Employees' State Insurance Corporation (ESIC) scheme or Employees' Provident Fund Organisation (EPFO).
•He or she should not be an income tax payer.
●Blue flag Certification programme.
•Blue Flag certification is an international recognition conferred on beaches, marinas and sustainable boating tourism operators that meet certain criteria of cleanliness and environmental propriety
•The Union Environment Ministry has selected 12 beaches in India to vie for a 'Blue Flag' certification, an international recognition conferred on beaches that meet certain criteria of cleanliness and environmental propriety.
●National Mission on Interdisciplinary Cyber-Physical Systems (NM-ICPS).
•The NM-ICPS is a comprehensive Mission which would address technology development, application development, human resource development & skill enhancement, entrepreneurship and start-up development in CPS and associated technologies.
•CPS and its associated technologies, like Artificial Intelligence (Al), Internet of Things (loT), Machine Learning (ML), Deep Learning (DP), Big Data Analytics, Robotics, Quantum Computing, Quantum Communication, Quantum encryption (Quantum Key Distribution) etc.
0
Daily Quiz Revision Current Affairs || 14 August 2019