●
Swadesh Darshan scheme:
launched by 'Tourism Ministry'
•Objective is to develop theme-based tourist circuits in the country. These tourist circuits will be developed on the principles of high tourist value, competitiveness and sustainability in an integrated manner
•Aims to leveraging tourism as a force multiplier for revitalizing the rural economy and for giving both domestic and international tourists a glimpse of the rural aspect of the country.
•100% centrally fundedfor the project components undertaken for public funding
•Ministry of Tourism under the Swadesh Darshan Scheme has identified Tirthankar Circuit as one of the fifteen thematic circuits for development in the country.
All the sites associated with Jainism are covered under this circuit.
•Ministry has sanctioned the project "Development of Tirthankar Circuit: Vaishali-Arrah-Masad-Patna-Rajgir-Pawapuri-Champapuri in Bihar
●
National Policy on biofuels-2018;-
↪ The Policy categorises biofuels as "Basic Biofuels" like 1G,2G,3G, bio-CNG etc. to enable extension of appropriate financial and fiscal incentives under each category.
♀Biofuels;-
•First Generation(1G)↪produced directly from food crops(wheat, sugar etc.)
•2G↪produced from non-food crops(wood, organic waste etc.)
•3G↪Specially engineered energy crops such as algae
•4G↪created using petroleum-like hydroprocessing, advanced bio-chemistry
【Government envisages an indicative target of 20% blending of ethanol in petrol and 5% blending of bio-diesel in diesel by 2030】
●
Juvenile Justice Act of 2000
•It was amended in 2015 with a provision allowing for Children in Conflict with Law (CCL) to be tried as adults under certain circumstances.
•The Act defines a child as someone who is under age 18. For a CCL, age on the date of the offence is the basis for determining whether he or she was a child or an adult.
•
The amended Act distinguishes children in the age group 16-18 as a category which can be tried as adults if they are alleged to have committed a heinous offence
— one that attracts a minimum punishment of seven years. The Act does not, however, make it mandatory for all children in this age group to be tried as adults
●
Right to Information (Amendment) Bill, 2019
•The Bill states that the central government will notify the term of office for the CIC and the ICs.
•The Bill states that the salaries, allowances, and other terms and conditions of service of the central and state CIC and ICs will be determined by the central government.
•Under the RTI Act, 2005, Public Authorities are required to make disclosures on various aspects of their structure and functioning.
•This includes:
(i) disclosure on their organisation, functions, and structure,
(ii) powers and duties of its officers and employees,
(iii) financial information
•Public Authorities designate some of their officers as Public Information Officers
•These Officers are required to provide information to an RTI applicant within 30 days of the request.
•Appeals against the order of the Appellate Authority go to the State Information Commission or the Central Information Commission
[No RTI fee is required to be paid by any citizen who is below poverty line as per RTI Rules, 2012. ]
●
Chandrayaan 2
Hide

— uploads.disquscdn.com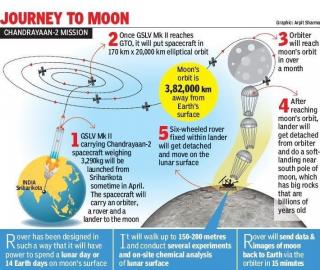 •In September 2008, the Chandrayaan-2 mission was approved by the government for a cost of Rs 425 crore.
•It is India's second mission to the moon.
•It aims to explore the Moon's south polar region.
•It will be launched onboard India's most powerful launcher – GSLV MK-III.
•The orbiter will be deployed at an altitude of 100 kilometers above the surface of the Moon
•The mission's lander is named Vikram after Dr Vikram A Sarabhai, the Father of the Indian Space Programme
•all eyes are now on September 7 when the lander and rover modules of the spacecraft will make a soft landing on the surface of the moon [ "Earlier this year, Israel's first Moon mission crash-landed while attempting to touch down."]
●National Medical Commission (NMC) Bill
•The bill provides for the constitution of four autonomous boards entrusted with conducting undergraduate and postgraduate education, assessment and accreditation of medical institutions and registration of practitioners under the National Medical Commission.
•The bill also has a provision for a common entrance exam and licentiate (exit) [For MBBS, students have to clear NEET, and before they step into practice, they must pass the exit exam]
•Indian Medical Association (IMA) opposed the bill that it will cripple the functioning of medical professionals by making them completely answerable to the bureaucracy and non-medical administrators
●electronic cigarette (or e-cig)
• It is a battery-powered vaporizer that mimics tobacco smoking. It works by heating up a nicotine liquid, called "juice."
•Commerce Ministry has asked the Health Ministry to frame a law banning manufacture and sale of e-cigarettes in the country as in the absence of a domestic legislation
•current unregulated sale of e-cigarettes is dangerous for a country like India where the number of smokers is on the decline [nicotine addiction and perpetuating smoking by making it more attractive]
●Gharial (Gavial or fish eating crocodile):
• Odisha renews effort to revive gharial population.
•Critically Endangered— IUCN Red List
•Gharials once inhabited all the major river systems of the Indian Subcontinent, from the Irrawaddy River in the east to the Indus River in the west. [Their distribution is now limited to only 2% of their former range]
0